Technology is revolutionizing the events industry. In addition to traditional in-person events, delivery now includes virtual and hybrid options. If you're using the right tools, virtual and hybrid events can offer experiences comparable to attending an event in person. With new technology and tech-savvy event participants, comes new expectations. Successful events mean meeting the expectations of your attendees, sponsors. and exhibitors. It's all about the experience. People want virtual event solutions that provide in-person experiences. Transform your events with Allseated EXVO.
Redefining Events
Whether in-person, virtual, or hybrid, all events are "real" and "live." Using the right virtual event platform, people are networking, learning from one another, and building relationships together, regardless of the delivery method:
· In-person: you're physically attending an event
· Virtual: you're remotely attending an event (web-based)
· Hybrid: you're attending an event (in-person or remotely), which combines in-person and virtual components
Delivery method aside, the goal stays the same: bring people together and give them an immersive, interactive, and fun way to connect and share.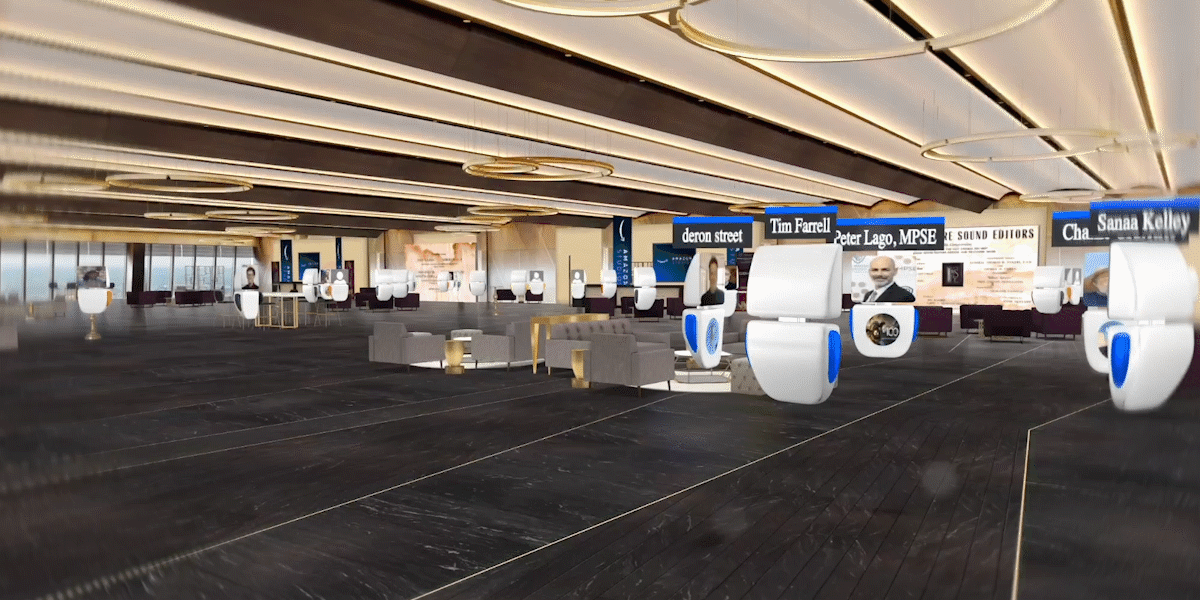 The Changing Events Industry
Before the COVID-19 pandemic, eventgoers attended events only in-person, and the formula for producing events hadn't changed in years. The events industry started talking about the concept of virtual, but with limited technology, nothing much happened. The industry basically had two options: using 2D video or videoing in-person events for one-way content delivery and consumption.
"Events pre-pandemic had not changed in three decades, but people had changed. We were still shoving hundreds of thousands of people into ballrooms, into backyards, or into convention centers, and just making them look at stuff. We made events about us as the events industry, not about the experiences that our attendees were going to have," Chief Imaginary at The Event Nerd, J. Damany Daniel explains. "The events industry is drastically different because we had a year off. A lot of bad things happened this past year, and a lot of really great things happened too. We've had advances in technology, and our attendees are savvier."
The pandemic forced the events industry to think and do things differently. The pandemic served as a catalyst for technological innovation. New ideas and technology hit the market.
Virtual Event Participants Want In-person Experiences. Event Producers Want ROI.
Yes, people are savvier. They want virtual event solutions that provide in-person experiences. They want real connection, real interaction. That in-person experience makes virtual events worthwhile. The ability to deliver that experience determines whether the event, in turn, provides the expected, the hoped-for, return on investment.
Choose Your Virtual Event Software Carefully
You have options, but not all technology providers are created equal. Most are tech start-ups resulting from pandemic, and they're coming from other areas outside of the events industry. Virtual event software functionality varies based on technology provider. Some providers may partially supply what you want, but then for additional needs, point you to other vendors. Or, in many cases, software vendors aren't providing tools specifically designed for events. They're just trying to cobble together different pieces of software intended for other purposes.
The result winds up being a huge project management headache, pricing may increase dramatically, and there's still a good chance you won't get what you need or want. You won't be able deliver the experience your participants expect. Fortunately, there's a simple solution. Allseated EXVO, the all-in-one virtual event platform, is specifically designed for the events industry. Created by event professionals for event professionals, EXVO offers the next-generation solution for virtual and hybrid events.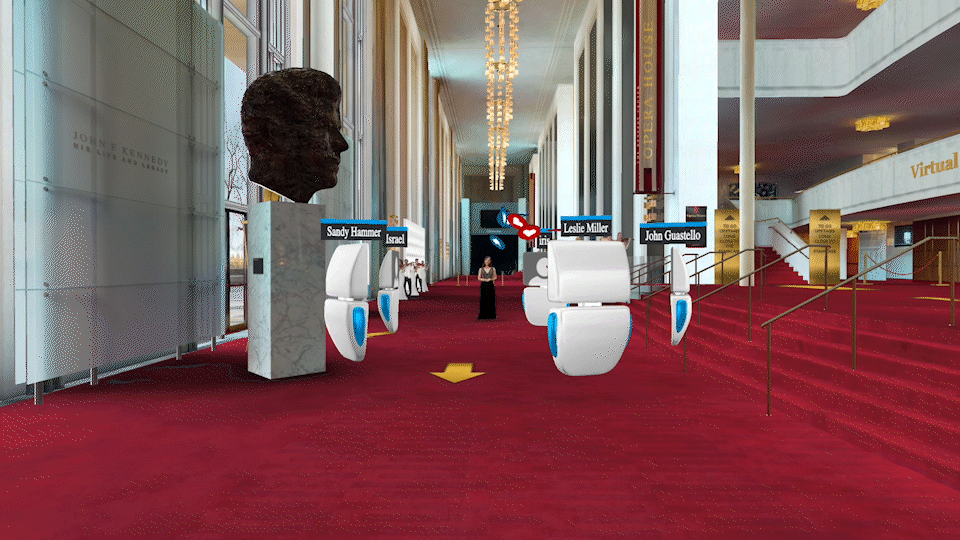 7 Reasons To Use Allseated EXVO For Your Virtual Event Platform
Allseated EXVO, your in-person event's digital twin, offers the most comprehensive virtual event solution that works for both standalone virtual and hybrid event strategies.
1. Have an in-person experience in a virtual event.
Explore the event floor. Listen to speakers. Browse exhibits. Network one-on-one or in groups. Choose where to go, who talk to, and the content that's important to you. EXVO offers a virtual event platform that provides an immersive, interactive experience like you're attending an event in-person. "By allowing avatars to explore customized and visually life-like spaces, to experience content in a fresh and immersive way along with effortlessly networking with colleagues, the EXVO platform is in many ways truly able to match the attendee experience of a live event and to achieve similar objectives." – Kristin Banta, Kristin Banta Events
2. Enjoy creative flexibility.
Design your space with cutting-edge virtual event software. Choose from a variety of venue model, floorplan, small room, exhibit booth, and speaker stage options. Add your unique style. Create the perfect space down to the table linens, glassware, and flatware. Allseated EXVO provides the creative flexibility you need to make the event truly your own.
3. Get custom branding.
Sponsor pages and logos certainly help, but it's limiting when you're trying to effectively express what makes you, your brand standout in a memorable way. Get more customization options with Allseated EXVO. Enjoy a wide range of digital branding options throughout your event venue including live or on-demand media activations, multimedia hosting, and sponsor signage. "You can either pick from any of the templates for stages, exhibit booths, and the virtual "brick and mortar" locations, or you can custom build anything you want beyond that. Branding is easy. Customization is simple." – Dave Merrell, CEO/Creative Director, AOO Events
4. Improve audience and speaker interaction. 
Move beyond streaming video in rectangle boxes. Run multiple sessions simultaneously. Hold sessions in your own space or on the event floor. EXVO gives you the flexibility you need to connect in ways that work best for you while improving audience and speaker interaction.
5. Use real-time analytics.
Get more than data on content consumed. Using the EXVO virtual event platform, you can understand your attendees with real-time critical data. Find out how many conversations there were; what exhibits, presentations, or breakout sessions participants attended; how long participants stayed; and more. Gain lead intelligence and help improve future virtual and hybrid events.
6. Easily increase your audience size 
Whether you're producing a standalone virtual event or a hybrid event, you can easily reach a much larger audience for pennies on the dollar compared to and in-person only-event. With EXVO's virtual event software, attendees can join from anywhere. All you need is an Internet connection. "You're exponentially expanding your audience and creating conversations. You're connecting people that, otherwise, would never have met, change agent and industry veteran, David Adler, chairman and founder of BizBash explains.
7. Save money.
Using virtual event platforms aren't cheap. You may need to increase your AV budget (virtual event budget); however, when compared to the travel, hotel, venue rental, food, and other costs associated with an in-person event, virtual events save money.
Allseated EXVO is an all-in-one virtual event solution
EXVO is your in-person event's digital twin. From exploring the event floor to networking in the hallway, attendees are able to connect and share like you're in-person. Immerse yourself in an experience that feels like being there in a customizable, fully branded, monetizable, 3D virtual environment. Get a proven all-in-one, end-to-end event solution backed by 8+ years of close collaboration with event industry professionals. Welcome to the next generation of virtual and hybrid events.