Allseated is the world's most innovative event diagramming platform which caters to the needs of event professionals looking to digitize and streamline processes while working with their vendor teams and clients to create memorable events.
Design Floorplan Diagrams To-Scale
Floorplan diagram software like Allseated allows users to create floorplan layouts to-scale. With one in every ten events created within the Allseated event diagramming platform, it's easy to locate your venue's floorplan template in our system.
 In the event that you cannot locate the venue floorplan template for your specific venue, you can provide us with a floorplan marked with at least one accurate dimension and our team will scale and upload it into the Allseated platform.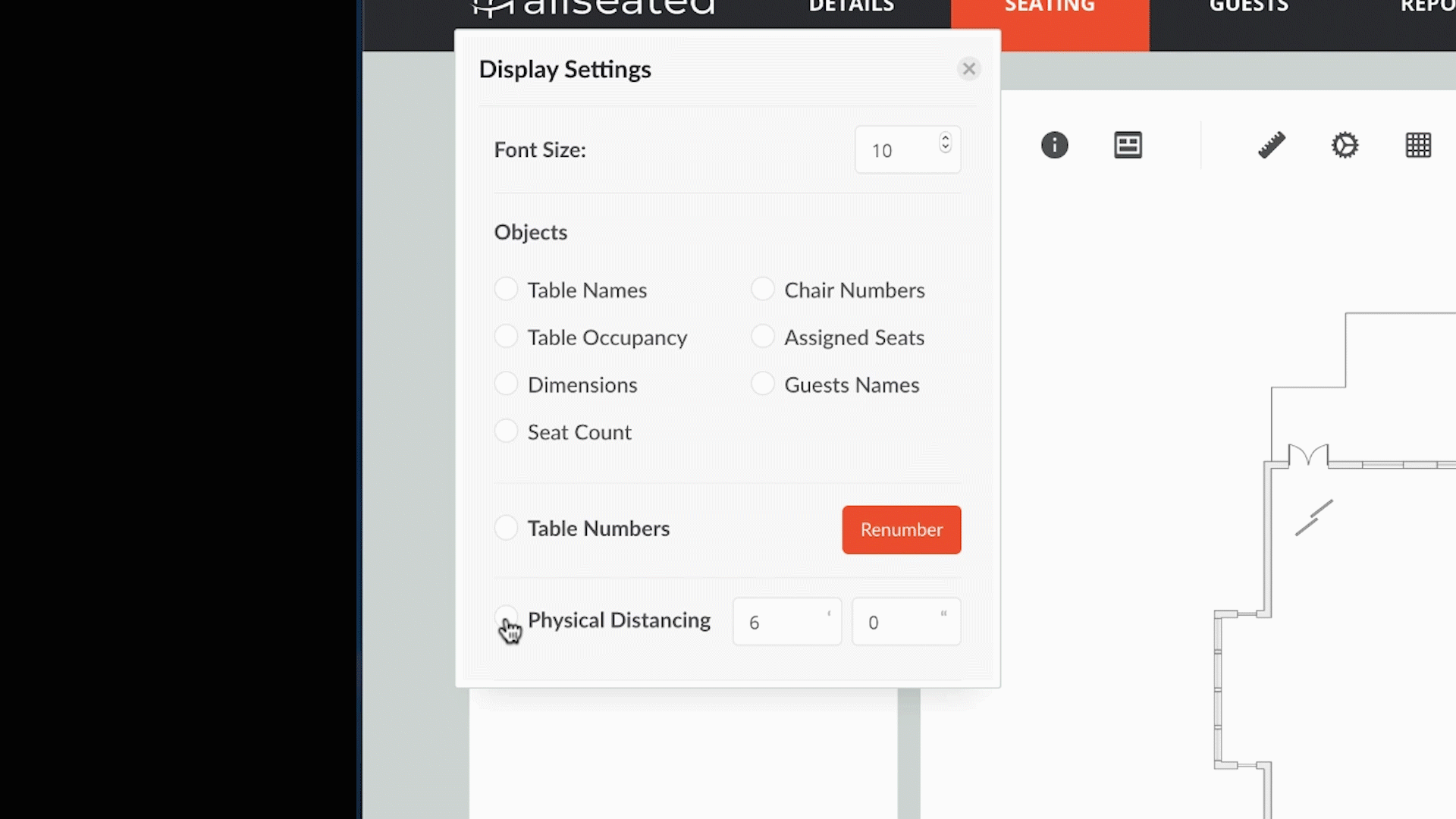 Event Floorplan Diagram Design Features 
There are many features available to users when designing event diagrams using Allseated OPs event planning software.
Using Allseated to design a floorplan you can: 
Select your tables, chairs, objects, and furniture

Customize spacing

Join tables and/or knock off chairs

Include spacing for dance floors and entertainment areas

Mark exits within the layout

List any planning details and/or notes directly within the floorplan

Save favorite objects and templates for future layouts

Create custom groups and save to favorites

Upload files (including JPG, PNG, PDF) to floorplan
3D Event Diagrams
A major benefit to designing event floorplan diagrams using Allseated's diagram software is the ability to view floorplans in 2D and 3D. At any time during the online floorplan design process, easily, it's easy to switch from 2D viewing to 3D viewing to take a virtual walkthrough of the layout. 
The 3D viewing options include Bird's Eye viewing which allows you to see your event floorplan in 3D from an above view. It's also possible to virtually walk through the online floorplan layout in 3D via 1st Person View as if you were taking a virtual walkthrough of your event floorplan layout. The many varieties of 3D floorplan viewing options help to ensure that you're 100% satisfied with the layout during the design process. This makes the day of the event seamless, accurate, and in line with your event vision.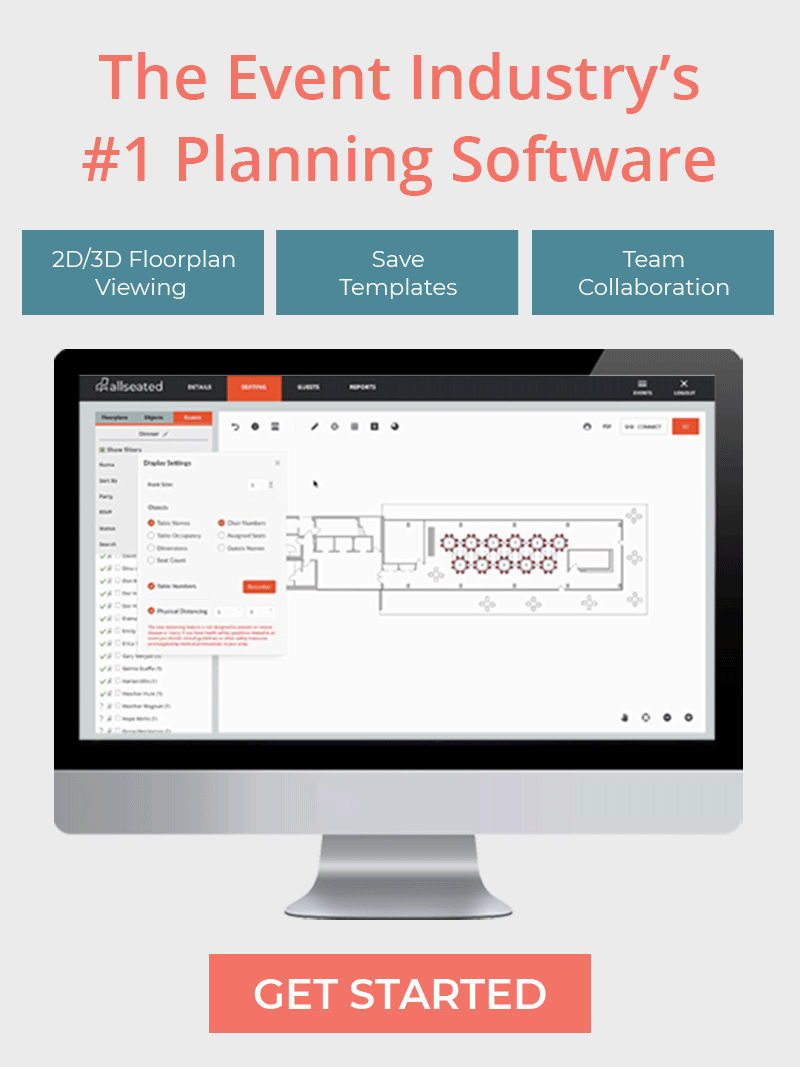 Allseated Physical Distance Tool
Allseated has launched a revolutionary new technology that enables the creation of social distance floorplans providing the Events Industry with a path to safely reopen as COVID-19 restrictions are eased. This physical distance tool for floorplans allows planners, venues, and other event stakeholders to plan event layouts incorporating new social-distancing guidelines, and dynamically ascertain new room capacities, ingress and egress, and foodservice protocols while ensuring the safety of event guests and staff as paramount. 
With Allseated's Physical Distancing Tool, you can:
Give clients confidence by designing floorplan diagrams with guest and staff safety at the forefront.

Create layouts to meet distancing guidelines to run a safe distance event.

Visualize the event floorplan with distancing in place.

Better understand how new guidelines will affect capacity.
The Physical Distance Tool was recently featured during a segment with NBC News NOW to discuss how Allseated's event technology is assisting wedding venues, planners, and clients open back up and get back to planning events safely.
Shareable Link to Floorplan
With a shareable link that is easily generated from a floorplan, you are able to send the event floorplan to someone without having them listed as a user for the event. This allows them to view the 2D/3D layout and move around the room without the ability to make any changes.
Objects Library
In addition to a vast standard object library (including a wide range of tables and chairs based upon the industry standards),  Allseated also has several furniture rental partnerships. 
The furniture partnerships include the two largest national rental companies, AFR and CORT. This allows users to choose from a large selection of event furniture items when designing their event floorplans online. All event furniture renders beautifully in 3D.
Guest List & Seating
Event diagram software for events should include options for guest list management and seating arrangements.
Give your clients added value with Allseated's guest list. Guest list features include guest name and mailing address organization, easily stored alphabetically with the option to filter for into specific categories based upon the event's needs. Guest names can be entered manually or imported from Facebook or Excel. The guest list also includes sections for notes, meal-type information, and RSVP tracking.
With a direct link to seating, it's simple and efficient to seat guests within the floorplan event diagram. 
Drag and drop your guests at the desired tables within the floorplan, with the option to seat guests at specific seats at specific tables if needed. It's easy to play around and move guests from table to table until reaching the desired seating chart!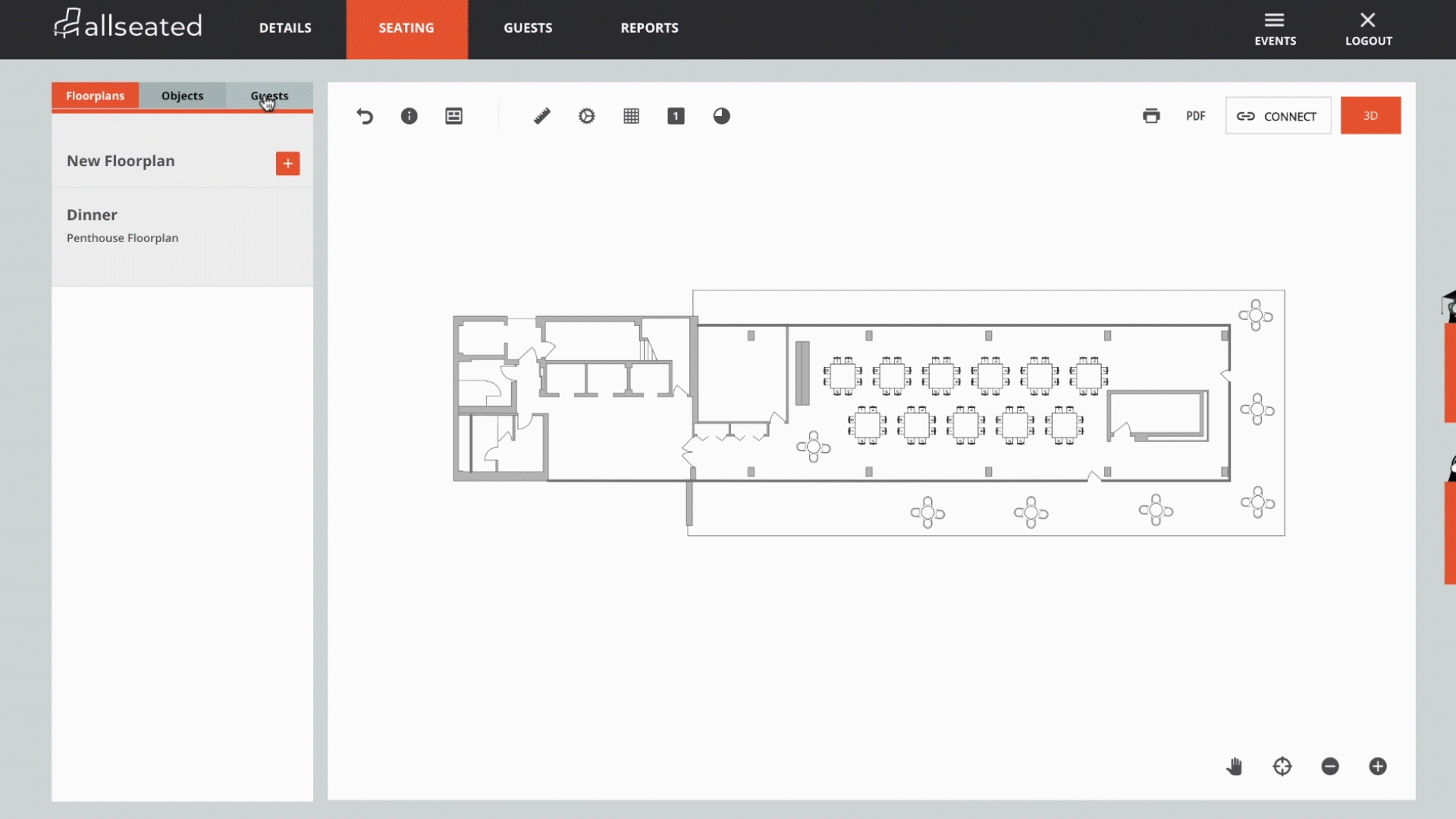 3D Designer Tools
With diagram software like Allseated, build tabletop and buffet displays to-scale within your floorplans using designer tools. The designer tools allow you to see exactly what fits to-scale on the tabletops in your floorplans which means no more guesswork! The table builder and buffet designer tools currently include options for place settings, flowers, centerpieces, linens, and buffet pieces, with many more objects to come. Watch this quick video!
Day Of Mobile App
Take your diagram software with you on the go to access your event with Allseated's Day-Of Mobile App for tablets! Allseated's Day-Of Mobile App includes a mobile check-in system, real-time collaboration, live check-in updates, overview of check-in status, and the ability to view floorplan diagrams in both 2D and 3D. The Day-Of Mobile App gives you access to the master seating chart and allows you to let your guests know where they are sitting while also keeping track of who is in attendance.
Generate Reports
Allseated's event diagram software provides you with the ability to easily generate reports regarding your event. Filter the reports according to the details you need for your event planning needs. For example, you may wish to generate a floorplan report to detail your specific layout along with a complete listing of the inventory, table breakdown, and seating information.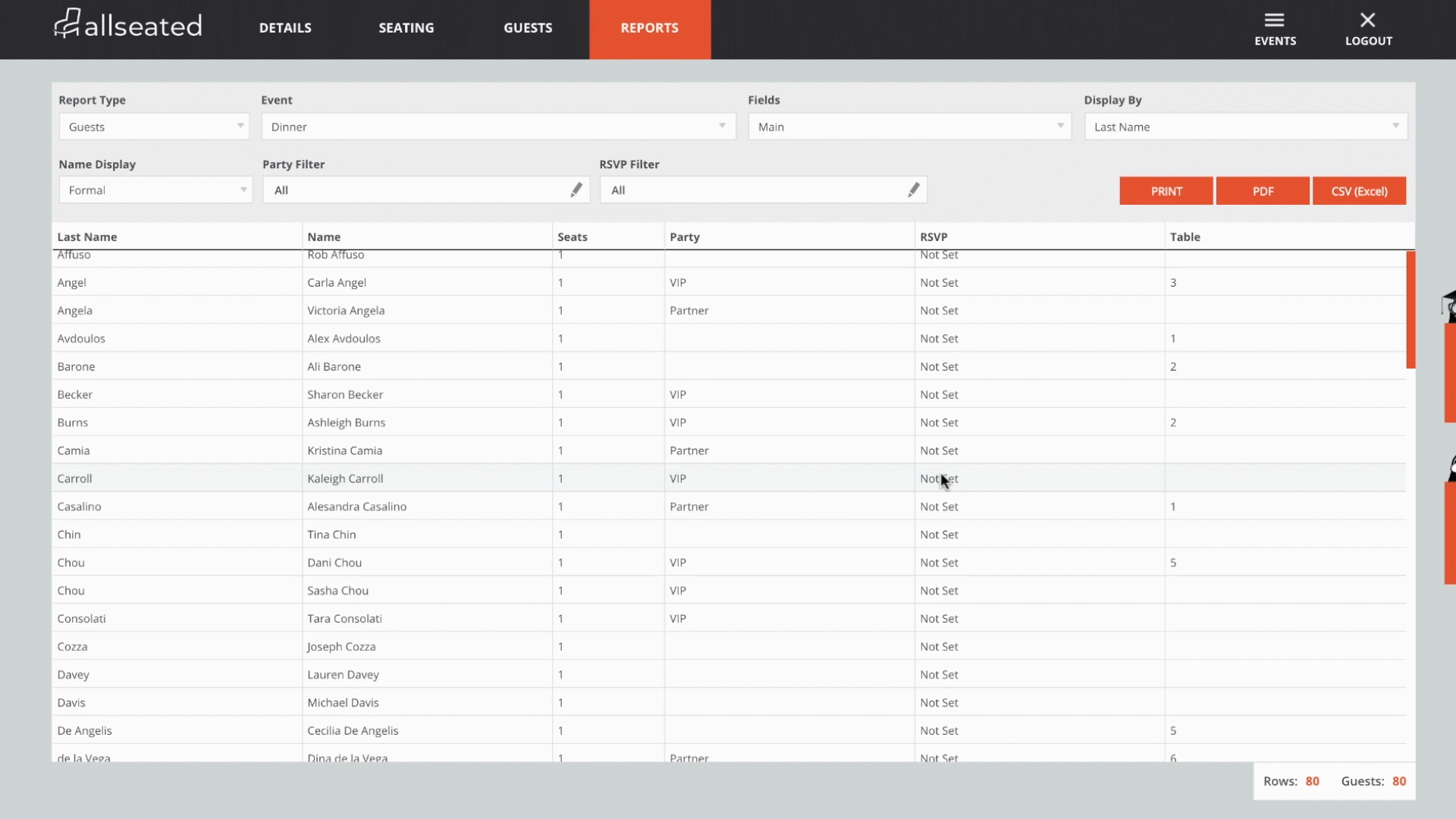 A guest report can also be generated to include details such as meal types, table numbers and any other information relevant for the venue/caterer. A guest list report can also be generated for other planning purposes such as invitations, escort cards, and favors.
FAQ